Welcome to Wentzville Chiropractic & Acupuncture Center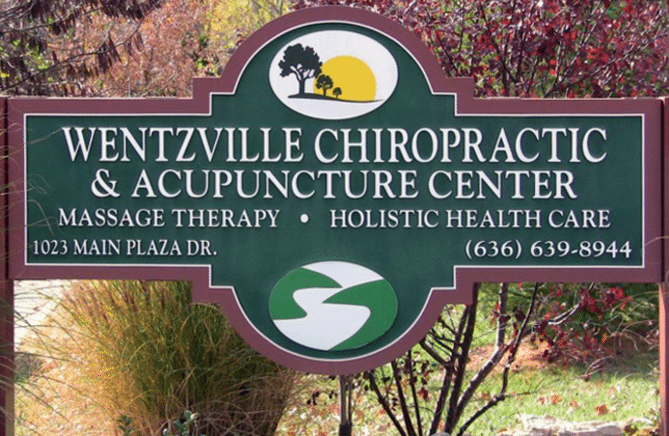 We would love to see you in our office! Please call to set up an appointment today by calling (636) 639-8944 or (636) 332-8944
We accept most public and private insurance plans. We also offer special pricing for most procedures for patients not utilizing insurance. Click here to find out more!
Our Chiropractors have been serving Wentzville and the surrounding areas for over 20 years.
We are a staff of Logan College of Chiropractic Doctors with over 50 years combined experience who are dedicated to helping you reach optimum health!
Our patients are our priority and we believe in personalized care based on your individual health concerns.
Massage therapy is an ideal complement to chiropractic care. We offer full 90, 60, 45 and 30 minute massages by licensed massage therapists Monday through Saturday.
Yoga multiple times per week! For more information click here!
Pranic healing by appointment
Office Hours
Monday: 8:30 am-5 pm
Tuesday: 8:30 am-6 pm
Wednesday: 8:30 am-5 pm
Thursday: 9:30 am-6 pm
Friday: 8:30 am-4 pm
Saturday: 9 am-12 pm (Variable Schedule - Call for details)
Sunday: Closed
Wentzville Chiropractic and Acupuncture Center
1023 Main Plaza Drive Wentzville MO 63385 US
(636) 639-8944 or (636) 332-8944
Connect with us on Facebook or Instagram for more information!
If you need to pay a bill please click below
Insurance Accepted
Many of our doctors are providers for the following insurance carriers:
ChiroHealthUSA~An alternative for patients not utilizing insurance plans allows us to discount your bill at the time of service.
Presently, Dr. Leah Owens and Dr. Damien Sampson are the only providers accepting ChiroHealthUSA.
If you would like more information regarding this discounted plan, you may either click on the link above or contact our office with any questions.